Studio Techne Architects were tasked with designing a new building for Community Assessment and Treatment Services, a recovery clinic on the east side of Cleveland, OH. The client requested custom-designed partitions between beds in their dormitory, but with the accelerated construction schedule for the building project, it was deemed more efficient to call out the partitions as furniture and to design, fabricate, and install them ourselves.

We built a series of full-scale, materially exact mockups in our fabrication lab. Through these iterations we were able to fine-tune both our design, our material selection and our building and installation process. We revised the locations of splices between the bands of masonite several times in order to ensure that they would not interfere visually with the smooth curvatures of horizontal bands. We also simplified the design over time in order to reduce the potential of the material breaking during installation.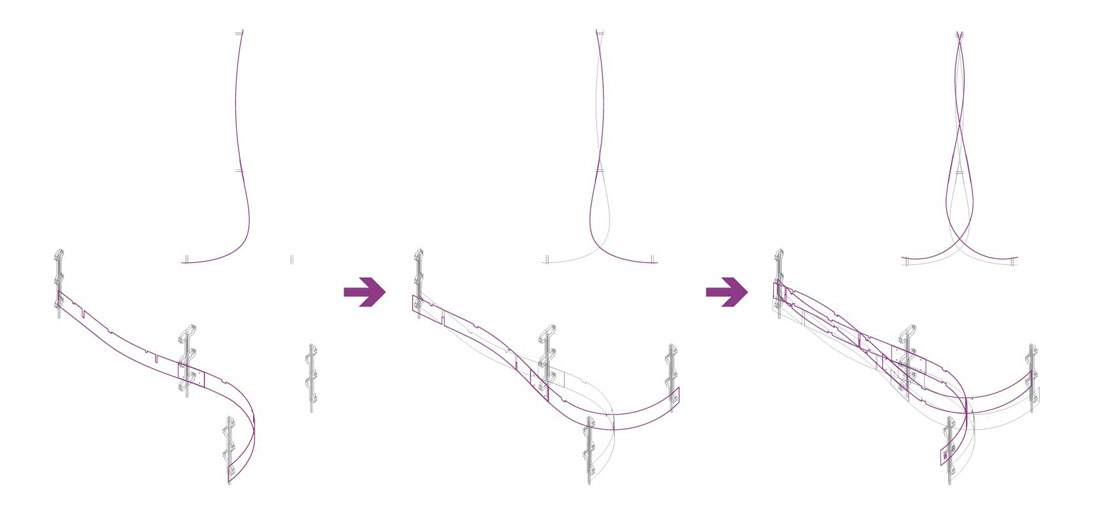 The final design was supported by four steel posts per partition, grouted into the concrete floor and clad in fiberboard. The partitions themselves were formed by sheets of single-laminated fiberboard, spliced together and joined to one another and the posts by friction connections. The final step was to add the top row of sheets, which was subsequently fastened in place with square-drive screws in order to deter tampering. In this way, we were able to create a stable, elegant, durable partition with a minimum of mechanical fasteners.
Materials, media and techniques: Adobe Creative Suite, hand fabrication